Speranza
By courtesy of Charles Hooey.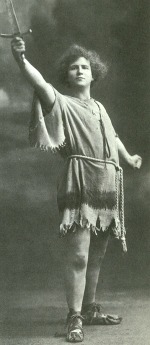 PARSIFAL WAS A FIRM STEP UP EDOARDO DI GIOVANNI'S LADDER OF SUCCESS
Edoardo di Giovanni's arrival at La Scala was auspicious.
When he showed up, Edoardo di Giovanni was offered, no less, the title rôle in
Parsifal
that was to be given for the first time in a staged format at La Scala. (Borgatti had presented Act II, unstaged, at La Scala, back in 1903, and of course Borgatti was the first "Parsifal" in Italy when the opera opened on Jan. 1 1914 at the Teatro Comunale in Bologna -- Vaccari created the role in Rome later that day).
After the opening performance of "Parsifal" (staged version) at La Scala on 9 January 1914, sung in Italian of course, the accolades poured in, these words being typical.
One review went as folows.
Parsifal made a sudden entrance on the scene, after the death of the swan, and truly he was a Parsifal one had read about in the poem - tall, young, handsome, innocent, covered in a brief tunic.
The tenor Edoardo di Giovanni had understood the character.
Every detail was studied and digested and presented with the greatest dignity.
Edoardo di Giovanni's voice possesses a warm timbre and he has a fine appearance, his manner of phrasing is very clean.
Later Edoardo di Giovanni confided to an accompanist how he was visited backstage by the young and enthusiastic critic of the socialist newspaper L'Avanti.
The chunky press representative who so admired Edoardo di Giovanni's singing was none other than Benito Mussolini!
During the run of twenty-seven performances, Lucy Weidt sang Kundry at the outset.
When Lucy Weidt left to fill engagements in Berlin, her replacement was Margot Kaftal, a Polish soprano already known at La Scala.
"She only made the public appreciate Weidt to whom full justice had not been done," commented Bebe.
Carlo Galeffi sang Amfortas at the outset but he gave way to Angelo Scandiani.
Bebe's verdict:
"A sad change."
In order to free up Edoardo di Giovanni so he could study his rôle in Alfano's new opera, management brought in the great Italian Wagnerian, now semi-retired, Giuseppe Borgatti to sing
Parsifal
but he failed to please.
The call went out to bring the young tenor back so he returned to earn even greater plaudits.
At about this time for Columbia, Edoardo recorded two selections from
Parsifal
in Italian:
"Es starrt der Blick" and "Nür eine Waffe taugt."